Gillmore Centre - Annual Conference
---
Inaugural Academic Conference
---
Warwick Business School Gillmore Centre Conference
DeFi & Digital Currencies - The Shard

2 September 2022
The conference brought together an international group of leading scholars conducting innovative theoretical and empirical research on DeFi and digital currencies. Topics include fragility in decentralised exchanges and DeFi lending; blockchain DLT consensus; competition among cryptos, fiat and CBDC; and valuing cryptos and utility tokens. The conference will continue to build on the growing Gillmore Centre research community and will stimulate debate and future research on emerging financial technologies, practices, and their regulation.
The Gillmore Centre for Financial Technology is based in Warwick Business School but draws membership from across the University of Warwick and beyond. The Gillmore Centre conducts world-class, cutting-edge research at the intersection of finance and technology. It aims to reinforce the already formidable interdisciplinary environment at Warwick helping to further tie together existing departmental excellence with the Centre acting as a research hub exploring the transformative impact of emerging technologies such as artificial intelligence, machine learning, blockchain, mobile payments, cryptocurrencies and crowdfunding platforms. The £3m donation by Clive Gillmore, founder and group chief executive of Mondrian Investment Partners, is enabling Warwick to continue to attract the world's best academics and postgraduates. The Gillmore Centre builds on Warwick Business School's global reputation and core disciplines while infusing the aligned fields of computer science, law and mathematics alongside deep tech innovation to drive applied research with industry partners and start-ups.
ACADEMIC PROGRAMME COMMITTEE: Bruno Biais, Ram Gopal, Itay Goldstein, Olga Klein, Roman Kozhan, Michael Kumhof, Bazil Sansom, David Skeie, Ruslan Sverchkov, Ganesh Viswanath Natraj, Shu Zhang.
CONFERENCE ORGANISING COMMITTEE: Ram Gopal, Matt Hanmer, Katherine Higton, Olga Klein, Roman Kozhan, Bazil Sansom, David Skeie, Ruslan Sverchkov, Ganesh Viswanath Natraj, Shu Zhang.
FURTHER INFORMATION: If you have any additional comments or questions, send us a message at gillmorecentre@wbs.ac.uk.
WBS Gillmore webpageLink opens in a new window
Press releaseLink opens in a new window
Interview with Itay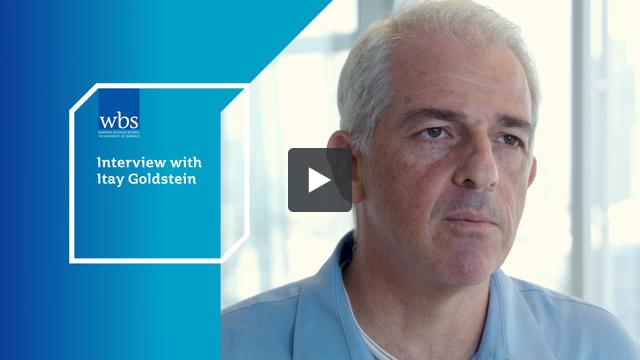 Interview with Bruno