Research Group NMR cap colours
Please remember to collect your NMR tubes after use!!
Please use the appropriate colour NMR caps for your group only (remove other colours from you lab to avoid confusion!). If you search for NMR cap "colour" or for WILM521 on opera you can find bags of 100 caps for ~£6.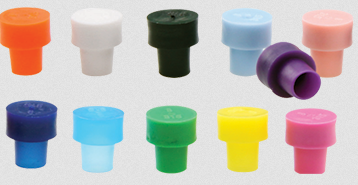 In order of image above
Pike – Orange
Wills – White (with MW)
Ward – Black
Clark + Clarkson + Fox + Marsh – Sky blue
Scott – Purple
Bugg, Toisin, Challis – Pink
Haddleton + Perrier – Blue
Wilson + Gibson – Aqua
Greenhalgh + Chaplin – Green
Becer + Bon + Shipman/Roesner – Yellow
SLS groups + Corre + Alberti - Fuschia
Other groups (Sadler) – Red
please contact Seb Pike if you want to change your group colour.