2021
Scientists able to see how potential cancer treatment reacts in single cell
Click image for full article
2019
July
Science Museum Group featured our stand at the Royal Society Summer Science Exhibition in their article on "Good Engagement Practice"
Science Museum Group article on our stand at the RS SSE in July 2019
February
Nucleus-targeting iridium-histidine complex featured in International Business Times

Click image for full article
2018
February
BBC News covered our novel osmium anti-cancer catalysts worked on by Dr James Coverdale
Older
2014
Iridium compound ZL105 from the Sadler Group was covered by the BBC.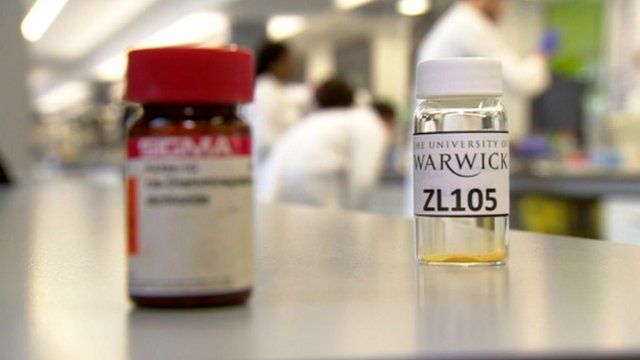 Our work on iron nanomimeralization in human serum transferrin fibrils
has featured recently on Warwick iCAST:
"New Role For Transferrin. Blood protein forms fibers, releases rust"
Our work on photoactivated platinum anticancer agents has featured recently on Warwick iCAST:
"Light powered platinum more targeted & 80 times more powerful than similar cancer treatments"
Warwick iCast uses the Flash plugin for your browser: download the latest version