Hi, welcome to my Stavros Group page!
About Me
I've always loved science from a young age. My first exposure to it was through educational computer games that fueled my continued interest in wildlife, conservation, science and engineering. My parents home-educated me, and both encouraged me to pursue the sciences academically.
I studied as an undergraduate at Warwick, eventually gaining a first class Masters degree in Chemistry, with honours. During the summer of my third year, I worked with the Stavros group on a URSS project involving time-resolved spectroscopy. Vas prompted me to apply for the DST CDT as a means of doing a PhD in a similar area.
Outside my work, I'm a keen photographer and writer of stories and video games. Last year, I took up ballroom dancing as a means of getting out of my comfort zone - I'm now hooked on it! I help run my church's kid's club and teach at Sunday school, as I absolutely adore working with children. Between all this and my PhD, there's plenty to stimulate my mind and keep me busy!
Undergraduate Degree (MChem), University of Warwick (2012-2016)
Gained a 1st class Master's degree in Chemistry, with honours.
Completed a Master's thesis, working for a year in the Habershon group (Department of Chemistry). My project involved using DFT calculations to do reaction path sampling.
URSS Project, University of Warwick (2015)
Completed a 10-week URSS project in the Stavros group (Department of Chemistry). My project involved using ultrafast spectroscopy to study the photoprotection methods of sunscreen molecules.
Postgraduate Degree (MSc), University of Warwick (2016-2017)
Gained a Master's degree in Diamond Science and Technology, with merit.
Completed a research project, supervised by Brad Cann (DTC Research Centre, Maidenhead), applying steady-state techniques (FTIR, UV/Vis, microscopy imaging, EPR) to study defects in a suite of brown diamond samples.
Completed a research project, supervised by Stephen Lynch (Cardiff University). This work involved upgrading and coupling a wide-field microscope to a step-scan FTIR spectrometer, for detection of diamond photoluminescence spectra.
These projects gave me experience in research environments, working with diamond defects and optics. They gave me a foundation to continue looking at these topics in my PhD.
PhD (2017-present)
Title: A study of the relaxation dynamics of local vibrational modes associated with hydrogen in diamond
Supervisors: Prof. Vas Stavros, Dr. James Lloyd-Hughes, Prof. Mark Newton
I use time-resolved pump-probe spectroscopy to investigate the excitation dynamics of hydrogen defects in diamond.
My research is primarily based in the Warwick Centre for Ultrafast Spectroscopy.
I am funded by both the EPSRC and the De Beers Group of Companies.
For the last two years, I have presented a poster at the annual Warwick Diamond Conference.
Publications
An Ultrafast Shakedown Reveals the Energy Landscape, Relaxation Dynamics and Concentration of the N3VH0 Defect in Diamond D.J.L. Coxon, M. Staniforth, B.G. Breeze, S.E. Greenough, J.P. Goss, M. Monti, J. Lloyd-Hughes, V.G. Stavros and M.E. Newton,

J. Phys. Chem. Lett.,

Published July 17 2020. DOI:10.1021/acs.jpclett.0c01806
Teaching and Demonstrating
Year 1 Maths Tutor, Department of Physics (2018-2019)
Year 2 Errors Marker, Department of Physics (2018-2020)
Outreach Activities
In August 2018, several of the DST CDT students, myself included, put on a special Diamonds are for Everything exhibit at Manchester Science and Industry Museum. It was a great opportunity to inspire a younger generation and to garner skills explaining our research to non-scientists. My family made the trip over to the museum and my little brother especially enjoyed the ice melting exhibit!
In January 2019, I joined a few other DST CDT students to participate in the annual Science Gala at the University of Warwick. We were able to explain the properties and applications of diamond to school students interested in STEM subjects.
Prizes
ChemContext - Prize for the Best Poster (2019)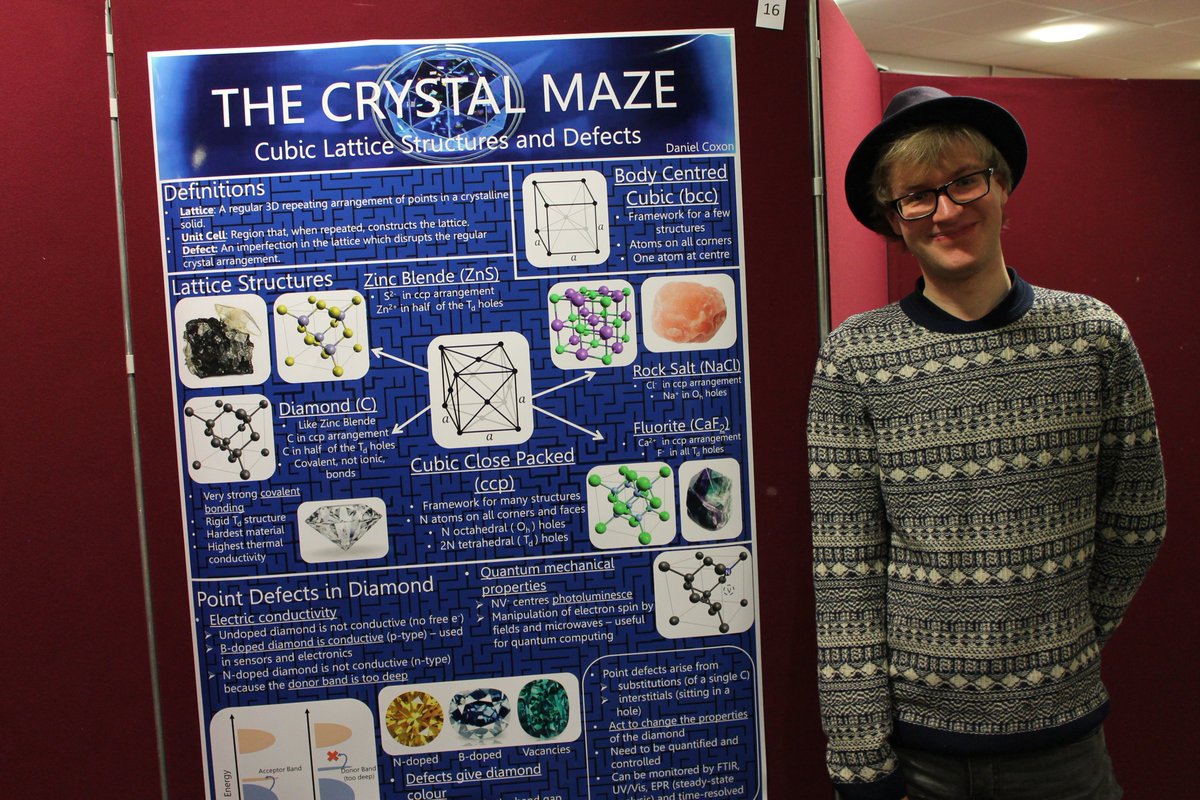 Links
Warwick Centre for Ultrafast Spectroscopy (WCUS)
Centre for Doctoral Training in Diamond Science and Technology
Contact Details
E-mail: D.J.L.Coxon@warwick.ac.uk
Office: E0.11a