The early modern period witnessed the intensification of long-distance contacts, with the opening of new maritime routes generating a spectacular rise in intercontinental trade between Europe, Asia, Africa, and the Americas. The establishment of a direct shipping link across the Pacific between Acapulco and Manila (1571) meant that, for the first time in history, all of the world's major landmasses were brought into direct and sustained interaction. For many historians, the sixteenth century was a watershed moment in global history, signalling the onset of a more connected, globalised world. Over the next two centuries, new patterns of production, exchange, and consumption transformed everyday life in Europe and around the globe. This was also the period in which European empire building, the trans-Atlantic slave trade, and, in the eighteenth century, industrialisation, created lasting disparities in global wealth and power. In this session, we will consider the uneven impact of the changing patterns of commercial, material, and ecological exchange on early modern economy and society, and its long-term effects in different parts of the world.
Seminar Questions
How global was the early modern economy?
What impact did the expansion of European intercontinental trade have on society and the environment?
To what extent did the expansion of European intercontinental trade create a more interconnected or, by contrast, a more hierarchical world?
Preparatory Task
Choose an early modern commodity and prepare to talk briefly (3-5 minutes) about where the commodity originated, how it was produced, how it was adapted or transformed through its incorporation into global trade networks, and what impact it had on the places where it was produced and consumed.
Examples of commodities which you might like to discuss include (but are not limited to) cotton, coffee, tea, sugar, spices, chocolate, tobacco, porcelain, silk, ivory, pearls, timber, and fur. A list of useful digital resources can be found below.
Key Readings
Useful Digital Resources
Further Reading on Trade in the Indian Ocean
Berg, Maxine, 'In Pursuit of Luxury: Global History and British Consumer Goods in the Eighteenth Century', Past & Present 182 (2004), pp. 85-142.
Berg, Maxine, et al (eds.), Goods from the East, 1600-1800: Trading Eurasia (Houndmills, 2015).
Campbell, Gwyn, Africa and the Indian Ocean World from Early Times to Circa 1900 (Cambridge, 2019).
Chaiklin, Martha, Philip Gooding, and Gwyn Campbell (eds.), Animal Trade Histories in the Indian Ocean World (Cham, 2020).
Chaudhuri, K. N., Trade and Civilisation in the Indian Ocean: An Economic History from the Rise of Islam to 1750 (Cambridge, 1985).
Clulow, Adam, and Tristan Mostert (eds.), The Dutch and English East India Companies: Diplomacy, Trade and Violence in Early Modern Asia (Amsterdam, 2018).
Furber, Holden, Rival Empires of Trade in the Orient, 1600-1800 (Minneapolis, MN, 1976).
Hofmeester, Karin, and Bern-Stefan Grewe (eds.), Luxury in Global Perspective: Objects and Practices, 1600-2000 (Cambridge: 2016).
Gerritsen, Anne, The City of Blue and White: Chinese Porcelain and the Early Modern World (Cambridge: Cambridge University Press, 2020).
Machado, Pedo, Sarah Fee, and Gwyn Campbell (eds.), Textile Trades, Consumer Cultures, and the Material Worlds of the Indian Ocean: An Ocean of Cloth (Cham, 2018).
Parthasarathi, Prasannan, Why Europe Grew Rich and Asia Did Not: Global Economic Divergence, 1600-1850 (Cambridge: Cambridge University Press, 2011).
Parthasarathi, Prasannan, and Giorgio Riello, 'The Indian Ocean in the Long Eighteenth Century', Eighteenth-Century Studies 48.1 (2014), pp. 1-19.
Pearson, Michael, The Indian Ocean (Routledge, 2007).
Pearson, Michael (ed.), Trade, Circulation, and Flow in the Indian Ocean World (Houndmills, 2015).
Riello, Giorgio, Cotton: The Fabric that Made the Modern World (Cambridge: Cambridge University Press, 2013).
Schottenhammer, Angela, Early Global Interconnectivity across the Indian Ocean World Vol 1 and Vol 2 (Cham, 2019).
Subrahmanyam, Sanjay, The Political Economy of Commerce: Southern India 1500-1650 (Cambridge, 1990).
Tracy, James D. (ed), The Rise of Merchant Empires: Long Distance Trade in the Early Modern World 1350-1750 (Cambridge, 1990).
Vries, Jan de, 'The Limits of Globalization in the Early Modern World', Economic History Review 63, no. 3 (2010): 710-733.
Further Reading on Trade in the Atlantic
Anderson, Jennifer L., Mahogany: The Costs of Luxury in Early America (Cambridge, MA: 2012).
Cañizares-Esguerra, Jorge, Entangled Empires: The Anglo-Iberian Atlantic, 1500-1830 (Philadelphia, 2018).
Eacott, Jonathan, Selling Empire: India in the Making of Britain and America, 1600-1830 (Chapel Hill, 2016).
Earle, Rebecca, Feeding the People: The Politics of the Potato (Cambridge, 2020).
Elliott, John H., Empires of the Atlantic World: Britain and Spain in America, 1492-1830 (New Haven, 2006)
Glaisyer, Natasha, 'Networking: Trade and Exchange in the Eighteenth-Century British Empire' Historical Journal 47 (2004): 451-476.
Gould, Eliga H., 'Entangled Histories, Entangled Worlds: The English-Speaking Atlantic as a Spanish Periphery', American Historical Review 112:3 (2007).
Green, Toby, A Fistful of Shells: West Africa from the Rise of the Slave Trade to the Age of Revolution (London: 2020).
Griffin, Clare, 'Disentangling Commodity Histories: Pauame and Sassafras in the Early Modern Global World', Journal of Global History 15.1 (2020), pp. 1-18.
McCabe, Ina Baghdiantz, A History of Global Consumption: 1500-1800 (Abingdon and New York, 2015).
McCusker, John J., and Kenneth Morgan, eds., The Early Modern Atlantic Economy (Cambridge, 2000).
Mintz, Sidney W., Sweetness and Power: The Place of Sugar in Modern History (New York, 1986).
Norton, Marcy, Sacred Gifts, Profane Pleasures: A History of Tobacco and Chocolate in the Atlantic World (Ithaca, NY, 2010).
Thornton, John, Africa and Africans in the Making of the Atlantic World (Cambridge, 1998)
Vries, Jan de, The Industrious Revolution: Consumer Behavior and the Household Economy 1650 to the Present (Cambridge, 2008).
Warsh, Molly A., American Baroque: Pearls and the Nature of Empire, 1492-1700 (Chapel Hill, 2018).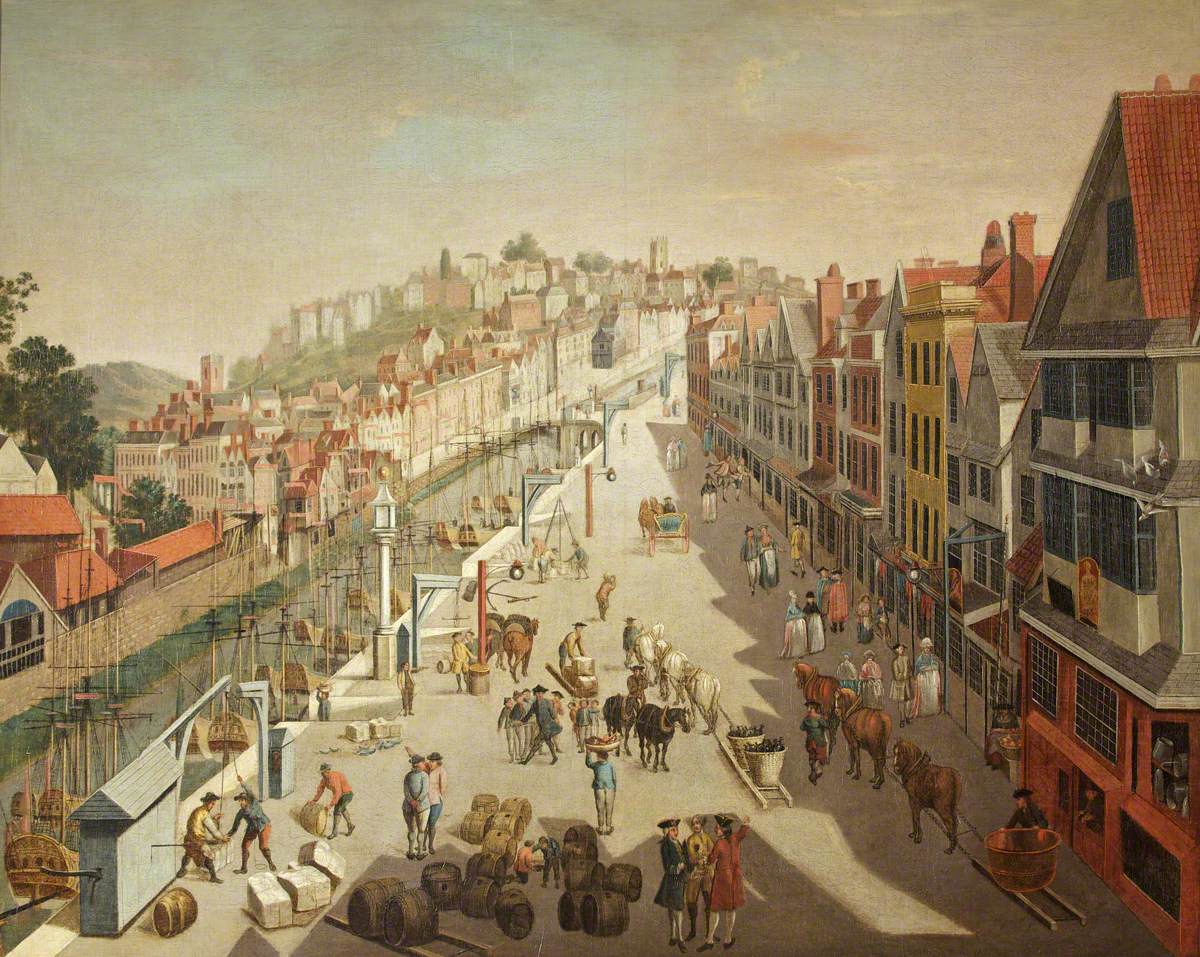 Philip Vandyke, 'Broad Quay, Bristol' (1775), Merchants Hall, Society of Merchant Venturers, Bristol.