Far too often, history is written based on a narrow selection of texts. The texts that remain often shape the kinds of histories that can be written, and far too often, those histories exclude people. But what if we could change that? What if we could find new sources to write different kinds of histories? What if you could use one or more objects that you have, or that you know about, to write about your world, or the world you know about? What if objects could talk? What stories would your objects tell?
This project seeks to make all of us co-producers of history by writing about objects that are meaningful to us. We are looking for students who are interested in being not only consumers of history, but its producers.
We begin with a series of introductory sessions. In each of these, there will be a brief intro on how 'things' can be sources for historians, followed by a 5 minute intro from a historian working in very different ways with objects, and the opportunity for you to bring your own object, and ask questions about if how your object might be a source for producing history.
Check out the article linked below by Serena Dyer that explores what the study of material culture entails and the direction the field may take in the future:
State of the Field: Material Culture
---
Upcoming sessions
Session 3: 2 March, 4-5 pm, featuring Ffion Boyd, 'Museums from Home: Communities, Collecting, and Covid-19'. The session will take place on the History Student Community space on Teams.
Ffion is an alumnus of Warwick University, having completed her History BA degree there in 2019. She has since gone on to complete her Museum Studies MA at University College London, where she researched the impact of Covid-19 on collecting practise and public engagement in small social history museums for her thesis.
Shes has volunteered and worked part time at several different museums in collections management, public engagement, and curatorial roles, including the Herbert Art Gallery and Museum in Coventry where she cared for their archival collections. Ffion is currently the Curatorial Intern for Burgh House, a small local history museum in Hampstead, London. In 2020, she curated an online exhibition, Art in Adversity, which brought together experiences and artworks produced by the museum's local community during the Covid-19 enforced lockdown, which will be discussed in this seminar.
This seminar will cover several topics: contemporary and rapid response collecting practises in museums; museums in times of crisis; and how museums have worked closely with their communities throughout the Covid-19 pandemic to create meaningful experiences and produced valuable resources for the future.
Collage piece entitled Summer Fun Cancelled by Janet Kumar, submitted and included in the online Art in Adversity with Burgh House. This exhibition brought together experiences and artworks made by the museum's local community during lockdown, and will be a key topic in Ffion's seminar. Made using newspaper and magazine cut-outs, it displays exciting articles on Art Fund events planned for Spring 2020 being obliterated by newspaper headlines referencing the pandemic, demonstrating the disappointment and hardship caused by Covid-19.
© Janet Kumar 2020, Summer Fun Cancelled.
---
Session 4: 16 March 4-5 pm (TBC)
---
Previous sessions:
Session 1: 19 January, featured Hannah Ayres, 'Queering the Museum'. Additional resources from the session selected by Hannah Ayres are below:
José Esteban Muñoz: Ephemera as Evidence: Introductory Notes to Queer Acts.
A complicated text but one that is essential if you wish to explore how to look at histories that are not quite 'solid'. Extremely useful for understanding why traces of queer history are difficult to follow.
A fantastic and super interesting project that looks to collect objects from trans individuals. They have one of the biggest collections of objects relating to trans lives and identities. They also employ really interesting and personable collecting practises and so are worth taking a look at.
The Bishopsgate Institute has a really fascinating and accessible archival practises. They also have a lot of online collections related to LGBTQ+ identities so are worth looking at for objects.
Jennifer Tyburczy: Queer curatorship: Performing the history of race, sex, and power in museums
The theory of queer curatorship is explored in this article and speaks about the way objects interact with audiences and other objects. Well worth a read!
---
Session 2: 2 February, featured Holly Winter, 'Behind the scenes at the museum'. Additional resources from the session selected by Holly Winter are below:
Museum as Muck – improving working class representation in museums and galleries - Living Knowledge
An important effort in recognising class as a barrier to people engaging with museums that is often ignored
Japanese propaganda leaflet, 1944 (c). National Army Museum.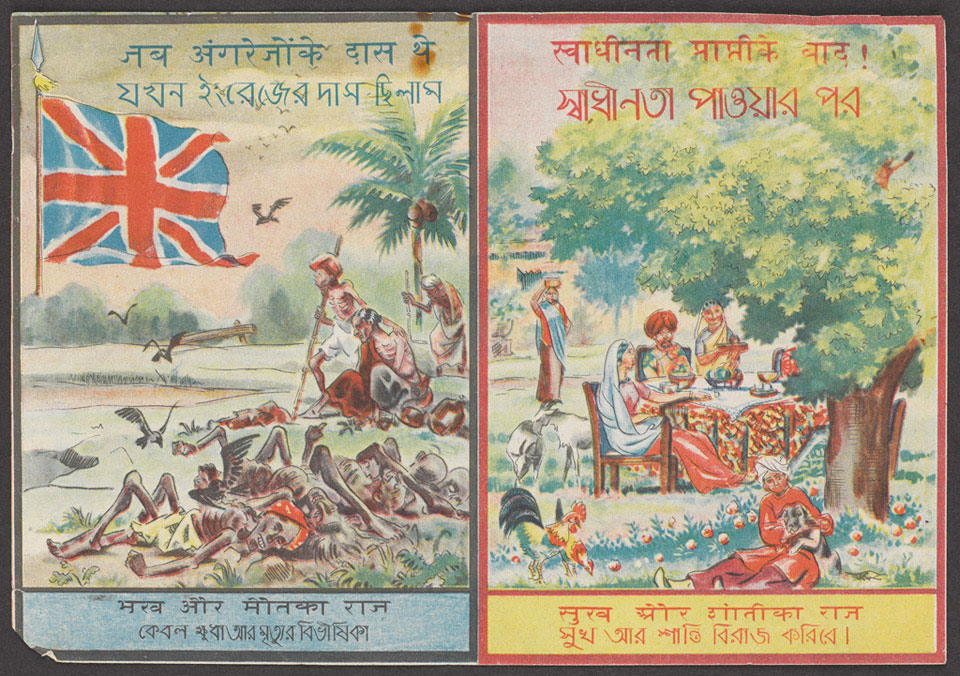 The text reads: 'As slaves of the British - Hunger and death rule. After independence- Happiness and peace rule.'
An example of the importance of cataloguing and translation in making sources more widely available and engaging with the skills of the community. A small step in decolonising the museum.