WHO Collaborating Centre for Nutrition
In September 2008, Warwick Medical School was designated as a WHO Collaborating Centre for Nutrition. The Centre was re-designated for a further 4 years (2018-2022). The terms of reference of the WHO Collaborating Centre are presented as bullet points and briefly describe the scope of the activities that the institution performs as a WHO Collaborating Centre:
Operational support:
To compile and keep up-to-date national guidelines on salt reduction at population level in European countries.

To extend the search and cataloguing in countries worldwide.

To continue systematic reviews to inform policy makers and to monitor international progress.
Research:
To increase the research output in the following areas that are of interest to the WHO general framework:

(a) quantitative monitoring of urinary sodium output;

(b) analysis of trends in urinary output;

(c) producing evidence of the effectiveness of implementation programmes.

To monitor the development of new policies for the reduction of salt intake.

To study how the development of new policies is influenced by research findings.

To explore issues of distribution and access to food items reduced in salt and socio-economic barriers to their use.

The Centre studies the potential impact of social and health inequalities on the implementation of nutritional policies for a reduction in salt intake and nutritional interventions targeted at low socio-economic groups.
Monitoring within the European Network:
To act as an integral partner in the development, implementation and monitoring of national programmes aiming at a reduction in salt intake.

To support monitoring and surveillance by providing centralized laboratory measurements of urinary sodium, potassium and creatinine obtained from random samples of participating populations.
Education, Training and Capacity Building:
To organize workshops and seminars aimed at the dissemination of information regarding methods, nutritional skills, policy issues and implementation tools for European participation.
---
---
---
Consensus statement by
the World Hypertension League, Resolve To Save Lives and the International Society of Hypertension
Dietary sodium (salt) global call to action
Today the Journal of Human Hypertension publishes a comprehensive fact sheet and global call to action aimed at nutrition, hypertension, cardiovascular and other health care clinicians and scientists, and health advocates, as well as organizations to which they belong. The World Hypertension League, Resolve to Save Lives and the International Society of Hypertension fact sheet and global call to action on reducing dietary sodium (salt) is supported by 70 national and international health and scientific organizations 1. As such the Fact Sheet and Global Call represent the position of mainstream scientific and health care organizations.
The global call to action outlines:
the burden of disease caused by high dietary sodium,
scientific evidence supporting recommendations to reduce dietary sodium,
dietary recommendations to reduce dietary sodium,
estimated levels of sodium intake,
cost effectiveness of programs to reduce dietary sodium,
sources of controversy,
Interventions to reduce dietary sodium and
Updated resources on the adverse health effects of high dietary sodium and interventions to reduce dietary sodium.
The call encourages all health care professionals, scientists, and the organizations that represent them to advocate for sodium reduction to be a high global priority and for all nations to develop effective programs to reduce sodium intake to recommended levels. Organizations can review the Global Call to Action and indicate their support for the Call by contacting the World Hypertension League at whleague17@gmail.com. An updated list of supporting organizations will be maintained until 2025. The Call to Action can be rapidly accessed at https://rdcu.be/cNIMn.
Campbell NRC, Whelton PK, Orias M, al. e. 2022 World Hypertension League, Resolve To Save Lives and International Society of Hypertension Dietary Sodium (Salt) Global Call To Action. J Hum Hypertens. 2022; https://doi.org/10.1038/s41371-022-00690-0.
Read a Short Summary here.
Read the Open Access Full Report here.
---
HOT OFF THE PRESS - March 2022
An International Call for Action:
Flawed research undermining dietary salt guidelines that protect cardiovascular health
"The question of contagion in various diseases has often been discussed with a degree of acrimony that is unusual in medical or other scientific enquiries. […] It is the great pecuniary interests involved …" John Snow, 1853.
Professor Francesco Cappuccio highlights in the World Hypertension League Newsletter the content of a report published by 25 leading experts in nutrition and CVD prevention who denounce the incorrect claim that a moderate reduction in sodium (salt) consumption is harmful. The report explains why the claim is based on flawed methods, poor rigour in research methodology and bias.
Read the Open Access Report here.
---
Salt Awareness Week 14th - 20th March 2022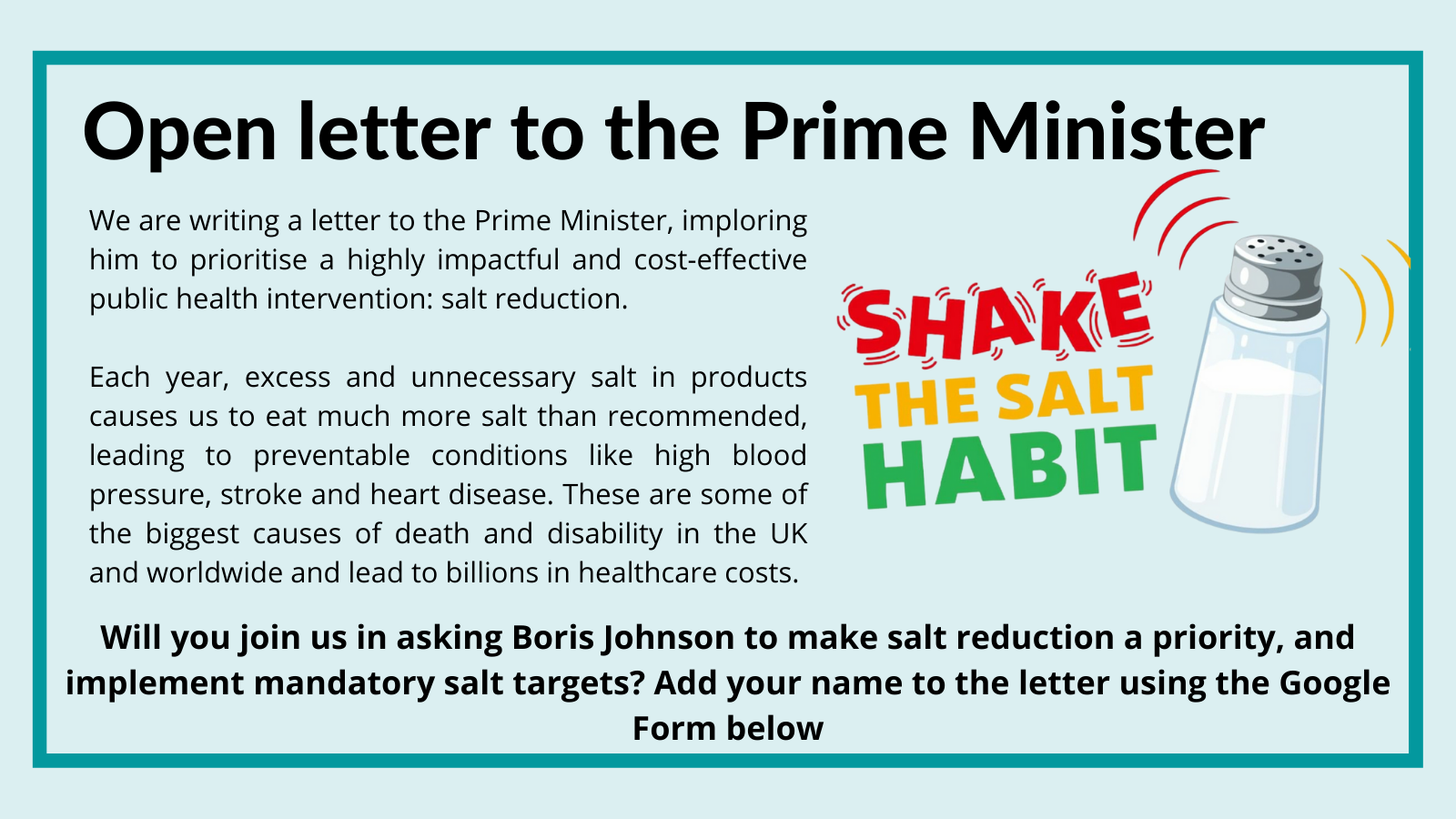 ---
Sodium and health: old myths and a controversy based on denial. Current Nutrition Reports 2022
---
Salt Wars: The Battle Over the Biggest Killer in the American Diet
by Michael F. Jacobson
Michael Jacobson explains how the American food industry and a small group of scientists have successfully fought government efforts to reduce dangerous levels of sodium in our food.
How to obtain measures of population-level sodium intake
in 24-h urine samples.
A WHO Report from the WHO Regional Office for Europe (2021)
A revised protocol primarily intended for principal investigator(s) of studies of sodium, potassium and iodine intake. Parts of the manual are also intended for field staff who may interact with survey participants.
The document is also supported by four videos.
Salt: it's more dangerous than you think. We eat far too much of it - and it's taking a toll on our health. Jennie Agg asks the experts how we can cut back The Times (19/05/2020)
The World Health Organization emphasizes its commitment to population salt reduction supporting the scientific statement of the European Salt Action Network (January 2019)
The salt debate: does consuming less really save lives? Read in The Conversation.
Is the sodium debate a legitimate scientific disagreement or a "controversy" manufactured by industry? WATCH THESE VIDEOS
Salt: are you eating too much? Channel 4 Disptaches (2015)


---
Practicalities of a 24-h urine collection. They are 4 videos (in English and Russian) produced by the WHO Regional Office for Europe with the scientific support of the WHO Collaborating Centres at the RIVM (Bilthoven, NL) and at the University of Warwick (Coventry, UK).
Video 1: General information and equipment for participants
Video 2: Participant instruction and urine collection
Video 3: Equipment for the research team
Video 4: Submitting urine and processing urine
---
Sodium and Health: Old Myths and a Controversy Based on Denial
---
Index
WHO CC Country support by Region
WHO Office for Europe
Albania / Andorra / Armenia / Austria / Azerbaijan / Belarus / Belgium / Bosnia & Herzegovina / Bulgaria / Croatia / Cyprus / Czech Republic / Denmark / Estonia / Finland / France / Georgia / Germany / Greece / Hungary / Iceland / Ireland / Israel / Italy / Kazakhstan / Kyrgyzstan / Kosovo / Latvia / Lithuania / Luxembourg/ Malta / Moldova / Monaco/ Montenegro / Netherlands / North Macedonia / Norway / Poland / Portugal / Romania / Russian Federation / San Marino / Serbia / Slovakia / Slovenia / Spain / Sweden / Switzerland / Turkey / Turkmenistan / Ukraine / United Kingdom / Uzbekistan
---
Population level salt intake in the WHO European Region in 2022: a systematic review
Kwong EJL, Whiting S, Bunge AC, Leven Y, Breda J, Rakovac I, Cappuccio FP, Wickramasinghe K.
Egypt / Iran / Jordan / Lebanon / Morocco / Oman / Tunisia / UAE
---
---